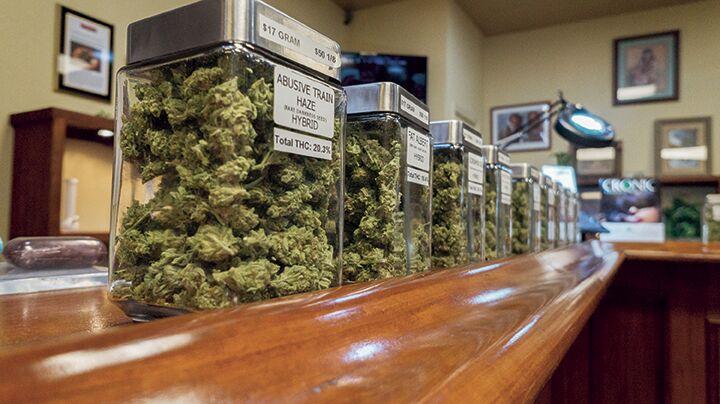 Following months of debate and revisions, the Las Vegas City Council officially approved a resolution regulating the manufacturing and use of recreational cannabis within city limits. 
After recreational marijuana was officially legalized in New Mexico earlier this year by the state legislature, local municipalities have had to draft new laws that account for this change to remain ahead of the curve. 
In the City of Las Vegas, individuals over 21 will be allowed to possess and manufacture up to six mature cannabis plants in their homes, as well as six immature plants. No more than 12 plants may be present in any one household, and plants must not be visible from outside a residence. 
Outdoor cultivation of cannabis plants is prohibited within the city. People who violate these rules regarding personal cannabis use will be subject to a $1,000 fine per day. 
Commercially, cannabis businesses must be at least 300 feet away from all schools and daycare facilities, and they must not disturb neighboring businesses with unusual smells or noises. 
Cannabis businesses will be allowed to operate between 8 a.m. and 11 p.m. Monday-Saturday and noon-10 p.m. on Sundays. All businesses must have full-time security present to prevent those under 21 from entering the business. 
All businesses must have a valid business license from the city before operating, as is the case with any local business. 
Personal use of recreational marijuana has been legal in the state since June, and businesses will officially be allowed to open no later than April 2022, though applications for business licenses are now available. 
Under the law, adults may possess a maximum of two ounces outside their home. If a person is caught with more than two but less than eight ounces of cannabis, 16 grams of cannabis extract, and more than 800 milligrams of edible cannabis in public, they could be guilty of a misdemeanor. The new law does not allow law enforcement from stopping or detaining a person solely because of the smell of weed. But this part of the law does not apply to those driving vehicles or when an officer thinks someone might be using a vehicle under the influence.