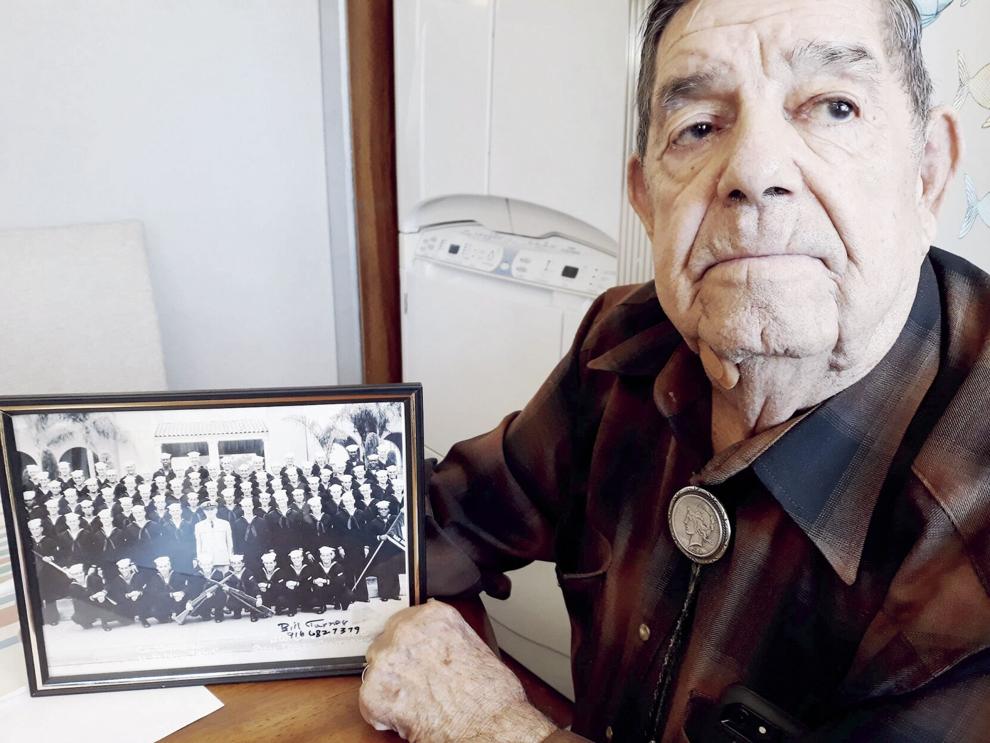 A few months after graduating from Las Vegas High School in 1952, nine boys from the class of 102 students arrived at a San Diego Naval base for 13 weeks of boot camp.
All played a role in the Korean Conflict from bases around the world. All survived.
For Veterans Day on Thursday, the Veterans of Foreign Wars Post 1547 in Las Vegas will honor those who served in the U.S. military. The ceremony will begin at 11:11 a.m. at Veterans Park at Fourth Street and Mills Avenue.
From the LVHS Class of 1952, Anselmo Valdez and Greg Loera, both of Las Vegas; Manuel Quintana and Ralph Maestas, both of Santa Fe; and Lorenzo Martinez in California are among 18 million living veterans who will be honored. Classmates who have passed, but will be memorialized, are Charles Fulgenzi, Adolfo Maes, David Guerein and Bill Turner.
Valdez, the owner of Gambles at 615 6th St., said as high school graduation approached, there was a group of boys in his class who talked about joining the military.
"There weren't many jobs and we all thought if you get Uncle Sam off your back, you can come back and start living," the 87-year-old said. "So we gave him his four years."
"I don't know what made us choose the Navy," Valdez continued. "I couldn't see me as a Marine because I couldn't carry a gun. I couldn't see me in the Army because I don't like the mud and to see me in the Navy, I couldn't swim, but I learned."
Loera said he was inspired by the Navy after watching a World War II movie.
"I was fascinated by the Navy and wanted to join when I was 17," the 88-year-old said. 
His mother, however, wouldn't sign for him so he waited until after high school. The former owner of Greg's Boot and Shoe Repair in Las Vegas served as a minesweeper.
"It was a wonderful career," Loera said. "I wanted to serve my country that gave me so much liberty."
Valdez and Maes remained stationed together for their 3½ years in the Navy. They worked on the aircraft carrier USS Kearsarge in Japan.
"They still had the propeller planes," Valdez said.
His most fond memory was when the military arranged for Valdez to spend Christmas of 1954 with his brother, Ben, who was stationed in Korea.
"They took me in a helicopter to Japan and on a carrier across the seas to Korea," he said. "They let me down and I didn't know what to do. I started asking questions about the whereabouts of my brother's outfit."
"There was no transportation, but the Army had a mail truck coming and going that took me to where my brother was," Valdez continued. "I don't think he knew (I was coming). It was too short of a time for mail and there were no telephones."
A native of Chacon, Valdez returned to Las Vegas in 1956 and at age 21 began working as the credit manager for Gambles, which at the time had 225 stores in the Midwest and Southwest. He has owned the Las Vegas store for 38 years and had worked there for 65 years. Today, he works five to seven hours daily.
While home on leave in 1953, Valdez married his high school sweetheart Adelina Torres; she passed five years ago. The couple was married for 64 years and are the parents of Valerie Monteverde, 66, of Hobbs, a retired teacher; and Rosemarie Valdez, 64, a nurse at the New Mexico Behavioral Health Institute; Joseph, 63, a commercial telephone installer; Victor, 60, an electrician; Maxine Ortiz, 57, the office manager at Gambles and Mariaelena Valdez, 48, a massage therapist, all of Las Vegas.
Fourteen grandchildren and 17 great-grandchildren complete the family.