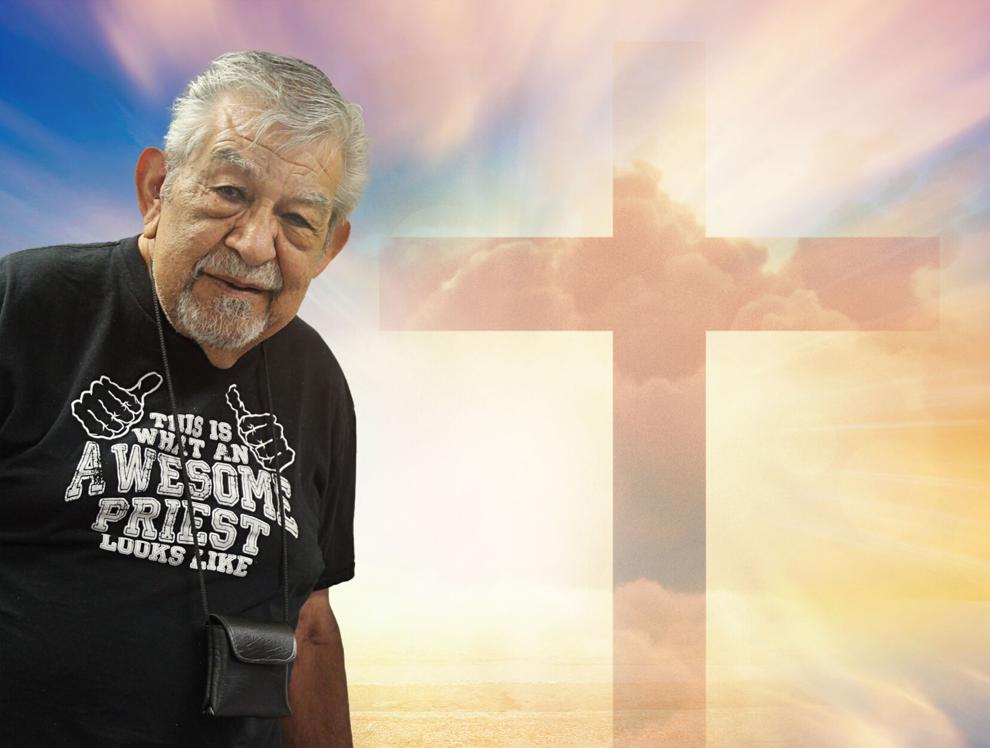 Fr. George Salazar was known for his sayings, phrases he often said to convey an important concept.
One of those sayings was "funerals are not for the dead, they are for the living." The truth behind this was most evident on Tuesday, when about 2,000 people showed up at the John A. Wilson Complex to give a final farewell to Las Vegas' beloved priest.
Salazar, who passed away April 26 after battling several health issues, led the congregation at Immaculate Conception Parish for three decades. His longtime friend, Fr. John C. Daniel of Immaculate Heart of Mary Parish in Los Alamos, officiated the funeral Mass on Tuesday.
"I was blessed to serve with Father George here in Las Vegas, at Immaculate Conception Parish," Daniel said. "And, as with many of you, I have my stories. We don't have enough time for all my stories. Father Dennis (Garcia) had cut my homily in half."
There was a reprieve to the solemn energy in the gymnasium, as those in attendance broke out in laughter.
Daniel said the stories and memories of Salazar "speak volumes of our faith. They speak volumes of a wonderful man, a man of God, a man of faith who has touched all our lives in so many wonderful ways."
Daniel spoke of Salazar's famous sayings, which he referred to as "Father George-isms," as well as Salazar's sense of humor. He recalled a time when Salazar was the celebrant for a marriage. In the middle of his homily, Salazar told the bride, " 'Jita, if (the groom) thinks he's the king of the castle, you just find the biggest frying pan you have in that house and you crown him."
Those in attendance again laughed.
Daniel also shared what he called his "favorite experience" with Salazar. It involved a time when Salazar had gone on vacation and entrusted Immaculate Conception Parish to Daniel for a week. On the day that Salazar was to return to Las Vegas, Daniel received a phone call that the basement of the old Immaculate Conception school was flooding. 
Water was pouring from the basement's ceiling, and tables were floating. Daniel said he tried to turn off a faucet that was running on an upper story with no luck. He then called the city to have the water in the building shut off.
"Apparently, they had just paved the parking lot … and they paved right over the turn-off valve," Daniel recounted, as the crowd collectively gasped in shock and dismay. 
Daniel waited about four hours for Salazar to return from vacation. When he did, Daniel showed him the basement where the tables were floating, and the faucet that was the source of the flood. 
"(Salazar) tries to turn the faucet off," Daniel recalled, "the whole faucet comes off in his hands."
Laughter once again erupted in the gym, as Daniel described what became a geyser shooting up into the air, causing water and plaster to rain down on the two priests.
"George turned to me and he says, 'You prayed this would happen.' " The crowd laughed once more. 
Daniel said he looked at Salazar and said, "I did."
"I didn't want the faucet to not come off in his hands and he be able to turn it off. It just felt better that we had a geyser," Daniel said jokingly. But then, in all seriousness, he commended the people of Las Vegas for their determination. He said that, the next day, there was a group at the building helping pump out water and clean the space.
"It was wonderful to see so many people that were helping, lending a hand," Daniel said. "And, of course, what happened is, you all decided to remodel that school, which is (now) the George Salazar Faith Center."
"We can think of all these stories that we have of Father George," Daniel said. "We speak of a man of faith, who shared the faith with others. That's what we should really remember about him. He strived to walk with his family. He strived to walk with his friends and neighbors. He strived to walk with his fellow priests. … He strived to share the faith with each one of us."
Daniel recalled all the support Salazar got from the community in the months leading up to his death.
"It's wonderful to hear the support (Salazar) received from family, neighbors and friends," Daniel said. "It speaks of our love for Christ, our love for Father George and each other."
Daniel encouraged the sharing of stories of Salazar's humor and life lessons.
"May we remember fondly the many stories we have of Father George, and may we share them with one another," Daniel said. "May we also seek out those wonderful qualities that God placed in Father George's life, and may we reflect upon how we may share those qualities with others. … We can be inspired by Father George to share our faith."
Daniel encouraged those in attendance to be there for one another, just as they were there for Salazar.
"May we make an effort to share God's love with others," he said. "May we make an effort to be there for each other. Not only in the joyous times, but also, in the most trying, sorrowful times."
Cathy Villegas, director of the Rite of Christian Initiation for Adults at Immaculate Conception, recalled several reasons why Salazar was so loved by his congregation.
"He was our priest, our mentor, our friend," she said. "Father was a great listener. … He would give (people) his time, speak with them. … He'd joke and laugh. … He knew us personally."
Villegas also helps manage the church's social media. In just a week, a post she made announcing Salazar's death had more than 500 shares and more than 600 comments. 
"This was a man of God," one commenter wrote. "He's the reason I'm a Christian."
"(Salazar) was the perfect example of a priest truly caring about his parish and community."
"Now enter into your master's glory."
Villegas said she first met Salazar in 1996 and, over the years, witnessed his devotion to his congregation firsthand.
"He worked tirelessly, all the way to his death," Villegas said of Salazar. "He had a strong work ethic." She said Salazar officiated two Masses, Monday through Friday, and kept a full schedule on the weekends.
Along the way, Salazar helped others realize and follow their calling, she said.
"He helped other people be who God wanted them to be," Villegas said. "It's like he could see, and he was going to help you get there."
Such was the case with Fr. Adrian Sisneros. When Sisneros was a child, Salazar would ask him and his twin brother, Andrew, "how are the borregas (sheep)?"
Although Adrian and Andrew grew up on a farm, their father, Jimmy Sisneros, said the question was odd nonetheless.
"We didn't have sheep," said Jimmy Sisneros, who also works at Immaculate Conception. "But now we know, (Salazar) was implying one (of the twins) would be a priest." Adrian went on to follow that calling, and he is now a priest in Moriarty.
Villegas said Salazar had a keen sense for his own calling as a priest at a very young age.
"He knew at (the age of) 7 he was going to be a priest," Villegas said. It was at that age that Salazar felt the calling to become a priest. It happened while he was at Mass with his mother and brother. 
He tried to tell his mother right away, but she told him to wait until after Mass. After services, Salazar's mother offered him and her other son ice cream for behaving so well at church.
"I don't want ice cream," Salazar protested. "I just want to tell you something important."
Salazar then went to tell his grandmother about what he knew was his life calling. After he told her, she gave him a hug.
"If it's going to be, it will be," she told her grandson.
"She understood," Villegas said of Salazar's grandmother. "(Priesthood) has been his life."  
Villegas and Sisneros recalled Salazar's big voice, which did not need a sound system to reach all those who attended services. He could sing, Villegas said, he could harmonize and write songs. Salazar could cook, Villegas noted, often sharing food with his congregants. He was a fan of the Dallas Cowboys.
An avid gardener, those who have been around and about Las Vegas for a while may have seen photographs of Salazar's homegrown vegetables and flowers.
Villegas and Sisneros recalled the priest's "George-isms:"
"How do you love a skunk?" Salazar would ask. The answer? "From a distance. Sometimes, you love them from a distance."
"Those who do wrong to us … pray for them. … Bless them."
"It's not in the 'I do,' it's in the doing."
"Love is not love until you give it away."
"Let your actions speak for you."
Congregants will not only remember Salazar through his sayings, his sense of humor and his culinary skills, but also in the changes made around Immaculate Conception. Devoted to St. Joseph, Salazar had a statue of the saint placed on church grounds. Salazar helped coordinate the restoration of the George Salazar Faith Center, located near the church. The building now has a dining area and a kitchen. It is used for a number of gatherings, including religious education.
Fr. George Salazar was born on Aug. 27, 1940. He attended seminary in Santa Fe and in the state of Missouri. He was ordained on May 13, 1967. 
Salazar remained close to home for almost his entire priesthood, taking on roles throughout Northern New Mexico. 
"Father stayed in his hometown where he was born," Villegas said. "That's rare for a priest."
Villegas visited with Salazar not long before he passed away. She said it was hard for him to pray in his final days, but he would still meditate. She said Salazar had told her he was ready. 
"In the end, I saw how he surrendered to God," Villegas said. "He taught us to surrender to God."