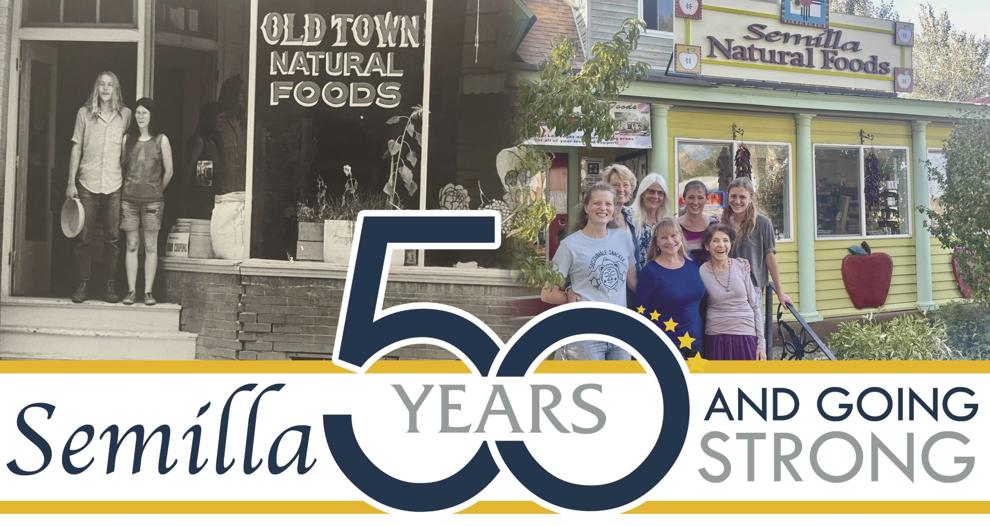 How did Semilla Natural Foods get from a fledgling herb and health food store to a 50-year-old mainstay in the Las Vegas economy? How did it remain strong and grow in difficult economic times? The answer to that begins with a 17-year-old high school dropout who decided — along with her partner at the time — to open a natural foods store in little Las Vegas, in old town, not the preferred business location at that time. Jane Lumsden's innate business savvy and willingness to work hard are the threads that run through the history of this homegrown success story.
Although Lumsden, a pioneer in the natural foods and health movement in the area, had business partners in the early years, it was a determination to carry out her personal vision of a viable health food store in Las Vegas that kept the dream alive and thriving. A move to the current location at 510 University in 1981, allowed her to expand the business and offer a greater variety of healthy and organic foods. She became sole owner of Semilla more than 20 year ago.
So, how do Lumsden and her staff continue to meet consumer expectations in an ever-changing marketplace?
"New products are always coming out and we try to keep up with them," Lumsden said. "We test the waters and find new products we love that we can share with our customers. We are open to customer suggestions and have found great products through them."
Food distributors and sales reps have been a great help, offering new products to try and working with Lumsden so she could pass on discounts to customers. Upon learning of Semilla's 50-year anniversary, many distributors provided products to give away during the celebration.
With 50 years of experience behind her, Lumsden is excited about taking her store into the future. As a conscientious entrepreneur, she evaluated the current Covid situation and decided to cancel the block party scheduled for Saturday, Sept. 11.
"We will recognize the years that shaped Semilla and honor staff and customers who have contributed to its success in other ways," she said. "But right now isn't the time to have large gatherings." A modified celebration will take place throughout the month of September with in-store promotions, drawings for discounts, and Apple-to-Apple loyalty cards.
In 50 years of running a business, Lumsden learned to "pivot" long before it became a thing, partly because – while the store has seen many improvements and changes the basics remain the same. And that begins with customer service.
"We are still old school in so many ways," Lumsden said. The staff hand prices products and use simple cash registers with no Point of Sales systems. She believes this hands-on approach has created a more intimate relationship with each product sold. "It makes us grateful for what it took to get that wonderful product produced and here to our small store."
Lumsden credits loyal customers who continued to patronize the store during Covid lockdown, and staff who helped out when the pandemic brought a surprising uptick in Semilla's business.
"We buckled down and worked twice as hard to make sure that we had product in stock. We offered curbside service, home delivery, and special orders. We took extensive care to be safe for our customers and for our staff. People flocked to us because we were more accessible than the large stores and had good customer service. We saw new customers, and old customers doing more of their main grocery shopping with us. With our Apples-to-Apples loyalty discount program, we are able to encourage larger purchases while offering a substantial discount," Lumsden said.
She credits every single person who has shopped at Semilla, and every single employee as part of the store's success.
"Looking back over 50 years is kind of daunting," Lumsden said. "Who knows what 'would have, could have' been different with different decisions. We managed to grow without going into debt. Every year I reinvested any extra money back into the store. If we had tried to grow too fast we may not have survived the ups and downs over the years.
"I personally have grown and developed with the store as the store has grown and developed with the community. People come in and tell us of coming into the store as children, and how the smell of the herbs brings back fond memories. To the kids we became known as the 'apple' store."
Lumsden has confidence in the future of Las Vegas as new residents move in, and confidence in the future of Semilla.
"We are excited to see what happens in the coming years. I would like to be known as the little 'apple' store with the big heart.
"For now, due to the rising numbers of Covid cases in Las Vegas and San Miguel County, we we're canceling our block party celebration with the Farmers Market. We pride ourselves on our commitment to keeping Las Vegas healthy and feel that it is too big of a risk at this time. We will continue to celebrate with many prizes and drawings during September. We look forward to celebrating with the Farmers Market next year for our 51st year," Lumsden said.
The Farmers Market continues to be open on its regular days, following CDC guidelines. Semilla's store hours are Monday – Friday, 10 a.m. – 6 p.m., Saturday, 10 a.m. – 5 p.m. 
Please visit Semilla's website at https://www.loc8nearme.com/new-mexico/las-vegas/semilla-natural-foods/2510613/