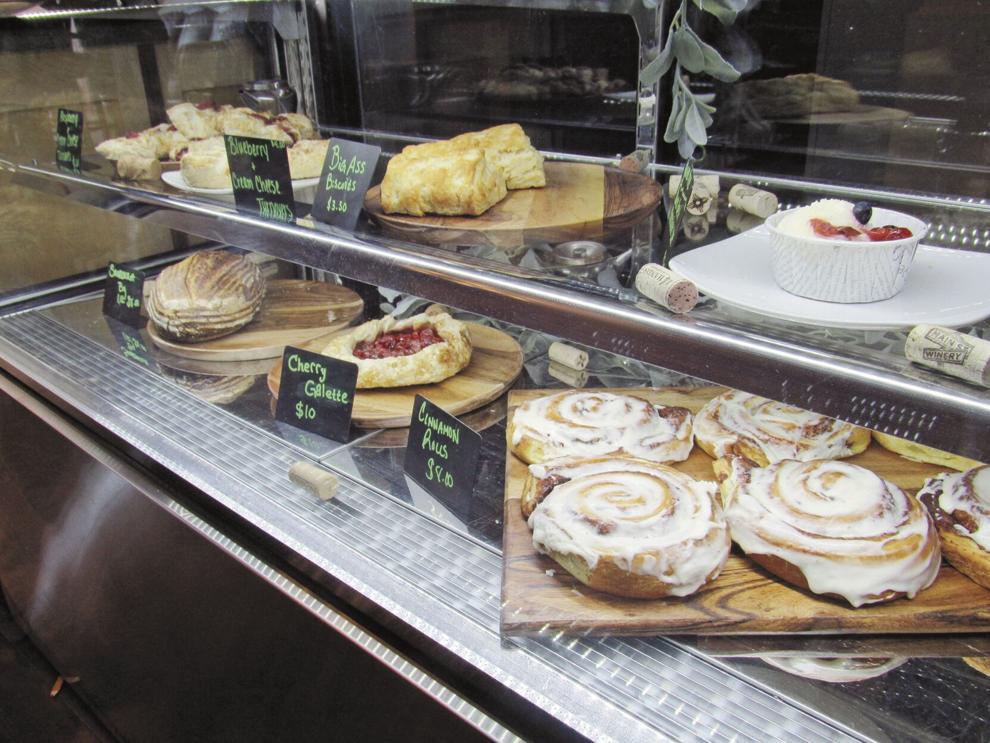 A new restaurant, the Prairie Hill Cafe, opened in the Plaza Hotel on July 16 to serve breakfast, lunch and dinner. An accompanying coffee bar in the lobby opened a few weeks earlier on July 2. Ongoing restoration on the neighboring saloon indicates that it will be ready to open soon, too, with a soft opening tentatively expected late next week.
Restaurant owners (and engaged couple) Sara Jo Mathews and Ryan Snyder are the ones responsible for this burst of culinary activity on the historic hotel's first floor. They both come from families with long histories in the area.
"The name Prairie Hill Cafe comes from the road that my family's ranch is located on," Mathews said. "My family has been living on this ranch, it's between Las Vegas and Watrous, New Mexico, for almost 125 years. We've been raising beef there for that amount of time."
Beef raised on that ranch and sold by her family's cattle company, Mathews Land and Cattle Ranch Raised Beef, is the hallmark of the couple's farm-to-table concept.
"Local tastes better. It's not just an advertising pitch, we live it," she said. "We buy as much local produce as we can–every opportunity we have to buy local, we do. The beef that you eat is raised five miles from where you sit." 
The couple was tapped by property owner Allan Affeldt to launch the project after their previous business, Borracho's Craft Booze and Brews, closed due to the economic fallout from the pandemic. The restaurant previously in the space, The Range, met a similar fate, leaving it vacant.
"The opportunity came where Allan Affeldt reached out to us and was like, 'Hey, I think you should do your farm to table restaurant at the Plaza.' And we thought, yeah. We're crazy, it's a pandemic, let's do it. They don't know if the world's going to end, but we're going to try to open a restaurant."
Mathews has a personal history in the space, getting her start in food service at age 15 bussing and waiting tables. During that time, she worked with Lisa Cisneros, who she's now hired as events coordinator.
"I actually worked with Sara here before, about 15 years ago," Cisneros said. "We worked banquets, working the weddings as servers. It's neat to be back full circle," she said.
Cisneros is responsible for managing events at the hotel's four event spaces, including the huge Ilfeld Ballroom. She says she's mostly booked up for the remainder of the summer. The restaurant provides catering to events such as meetings, conferences, bridal showers and funerals.
In the back of the house, Mathews has brought in Lee Einer, with five years of local baking experience, to make bread fresh in-house. Brioche buns and sourdough loaves are daily staples, along with a signature biscuit.
"We call them our Big Ass Buttermilk Biscuits, they are kind of a hybrid, kind of like Southern cuisine meets Viennoiserie," he said. "It's a laminated dough, so there are chunks of butter that are rolled and folded until you have a very flakey biscuit." 
Those biscuits are sold in the coffee shop's pastry case, and featured in the cafe's breakfast sandwich. Einer's invested in the farm-to-table concept, too.
"I have an obsession with local foods. I'm also a forager, I give regular tours of the Gallinas River park and show people what grows here naturally that's edible and medicinal," he said.
Co-owner Ryan Snyder described how they strike a balance between what can be obtained locally, and what has to come from further abroad. He's got a 10-year background working as a manager for a corporate pizza chain, so he's all about managing costs and sourcing things for the best price possible.
"Pretty much all our herbs are local. My younger brother grows our gardens so we get a lot of our basil, thyme, rosemary from there," Snyder said. The coffee is from Little Bear, a roaster based in Albuquerque.
Mathews describes the effects from the drought earlier this year, which prevented a lot of local farmers from planting larger crops.
"We're hoping to be buying a lot more local produce than we are right now," she said. "A lot of people who usually planted these gorgeous, unbelievable gardens didn't because they didn't think they would have the water. We use as many local vegetables as much as we can, but it varies day to day."
Mathews also expects the menu to change seasonally, saying she has some hearty surprises up her sleeves for the cold season. The current menu is excitingly eclectic, with healthy options like a lunchtime, vegetarian portabello panini ($14) next to an indulgent 12-ounce burger made from local dry-aged beef ($19). For dinner, try a Chicken Little ($24), a raspberry BBQ roasted Cornish game hen on a bed of mashed potatoes, or the Fatty Mac n Cheese ($21), a rich homemade baked dish topped with red Chile-brown sugar local bacon.
While many items are New Mexican-inspired, Mathews doesn't want to compete with the restaurants already established down the road, such as El Rialto or Olivia's Cafe.
"People will be like, 'you don't have hand-held breakfast burritos?' And I'm like, 'go to Olivia, she's got you," she said. "Las Vegas is still very true to its own identity. What makes Vegas really special is having the people who live here and are invested in this community, are the ones who own these buildings and run these shops. They're not some far away influence." 
The Prairie Hill Cafe is open seven days a week from 7 a.m. to 7 p.m., serving breakfast until 2 p.m., lunch after 11 a.m. and dinner after 4 p.m.