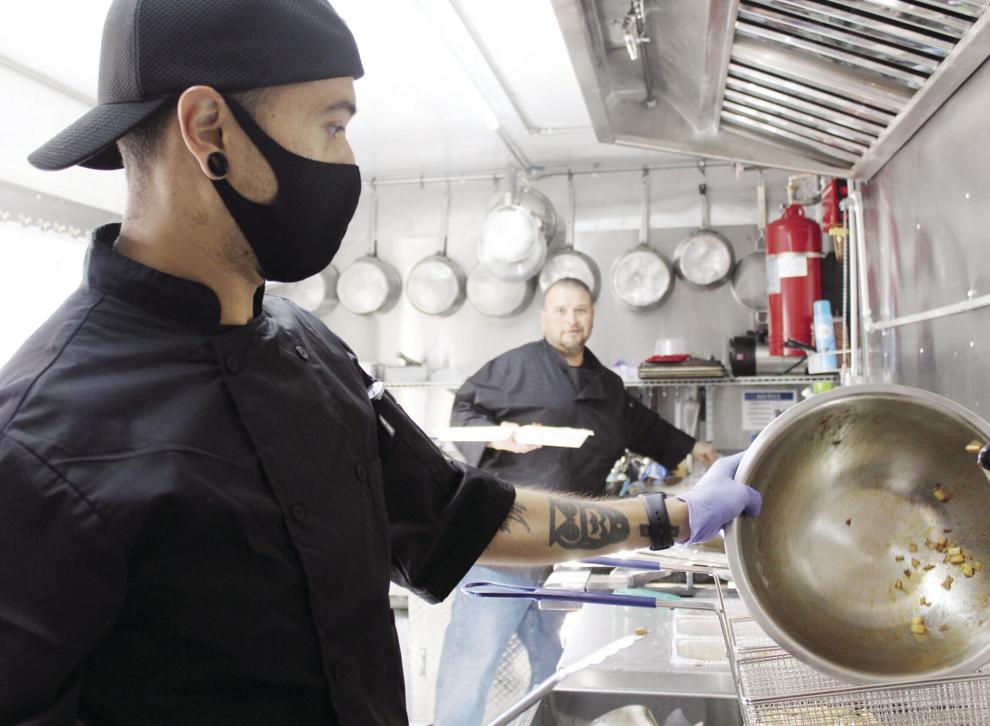 Johnny's is back.
The owner of the former Johnny's Mexican Kitchen on Monday reopened as Johnny's Express in a $50,000 custom-made food truck. The business will be run at 717 Grand Ave., which is the parking lot of the closed restaurant.
Emory "Mere" Aragon, 49, and his son, Naithan, 33, will operate the business from 6:30 a.m. to 1:30 p.m. Monday through Friday.
"We decided to scale down a little," Emory Aragon said. "It's still the same chili and the same beans."
COVID forced Emory Aragon to close Johnny's Mexican Kitchen in March 2020 after the governor ordered that only essential businesses could remain open due to highly contagious illness. Some 20 part- and full-time workers lost their jobs.
"We couldn't make it," Emory Aragon said. "It was hard. We had three generations of workers."
Faced with the challenge of finding employees, father and son decided to go with a food truck. They collected unemployment after closing the restaurant and started working on Johnny's Express in July.
"It's awesome (to have them back)," said customer Jeffrey Gallegos, who ordered green chili, chicken enchiladas.
"They have the best chili," added the 30-year-old owner of Gallegos Tire Shop.
Darlene Gutierrez also was pleased that her nephew Emory Aragon reopened the business.
"They always had the best food," said the 71-year-old from Denver, who happened to be here for the opening of Johnny's Express.
Jamle Palmer, 17, had heard about the restaurant from family in Las Vegas.
"I had to stop," said Palmer, who lives in Albuqurque.
Emory Aragon's parents Johnny and Lucy Aragon started Johnny's Mexican Kitchen 40 years ago at a Mills Street location. Three years later, the restaurant moved to 717 Grand Ave., where it remained for 37 years.
Dr. Pat Romero owns the former Johnny's Mexican Kitchen building, but could not be reached.