Eight, roughly 100-year-old oak wine vats were removed last week from the basement of the former Maloof building on Bridge Street.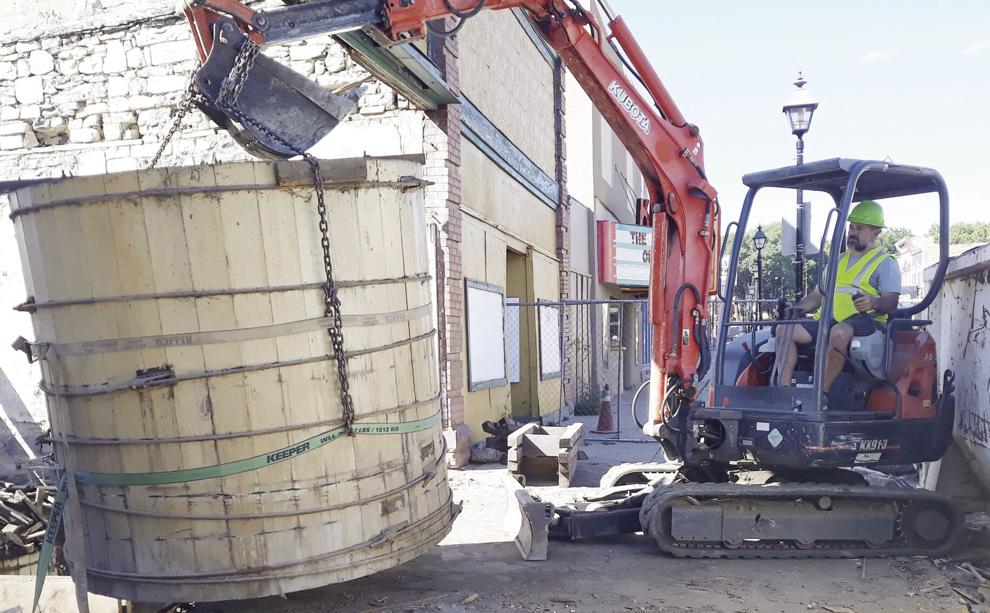 Carlos Lopez, owner of Contractors Supply in Las Vegas, removed and is storing the vats. Lopez is considering displaying a few at Buffalo Hall, a soon-to-open restaurant and bar on Grand Avenue, which he owns.
The vats are in good condition except one that was rotted out on the bottom, Lopez said. He theorizes that the building's roof, which caved in about 50 years ago, and the first-story floor may have protected the vats from deteriorating.
A distributor of alcohol, the Maloof family constructed the building between 1909 and 1912, according to Lawrence Quintana, vice chairman for Las Vegas Citizens' Committee for Historic Preservation. Quoting the information from Joseph Lordi's book, "Las Vegas New Mexico," Quintana noted it replaced a pre-1898 blacksmith shop.
Billy Rogers, owner of Gonzales Mortuary in Las Vegas, said his grandfather and his grandfather's two brothers moved to Las Vegas from England and built the blacksmith shop in 1883.
The Maloof family gave the building to West Las Vegas Schools, which had used it to display athletic schedules. The school never did anything else with the building and sold it to Lopez about four years ago.
Now owned by Lopez and Jeff Salman of Las Vegas, a portion of the building is being torn down to widen Camino de La Escuelas – the street that goes to West Las Vegas High and Middle schools, Lopez said. 
Maria Gilvarry, utilities director for the City of Las Vegas, said Lopez and Salman want to donate a portion of the property for widening the street. Gilvarry said the road isn't wide enough for emergency vehicles and for all the traffic going to and from the schools.