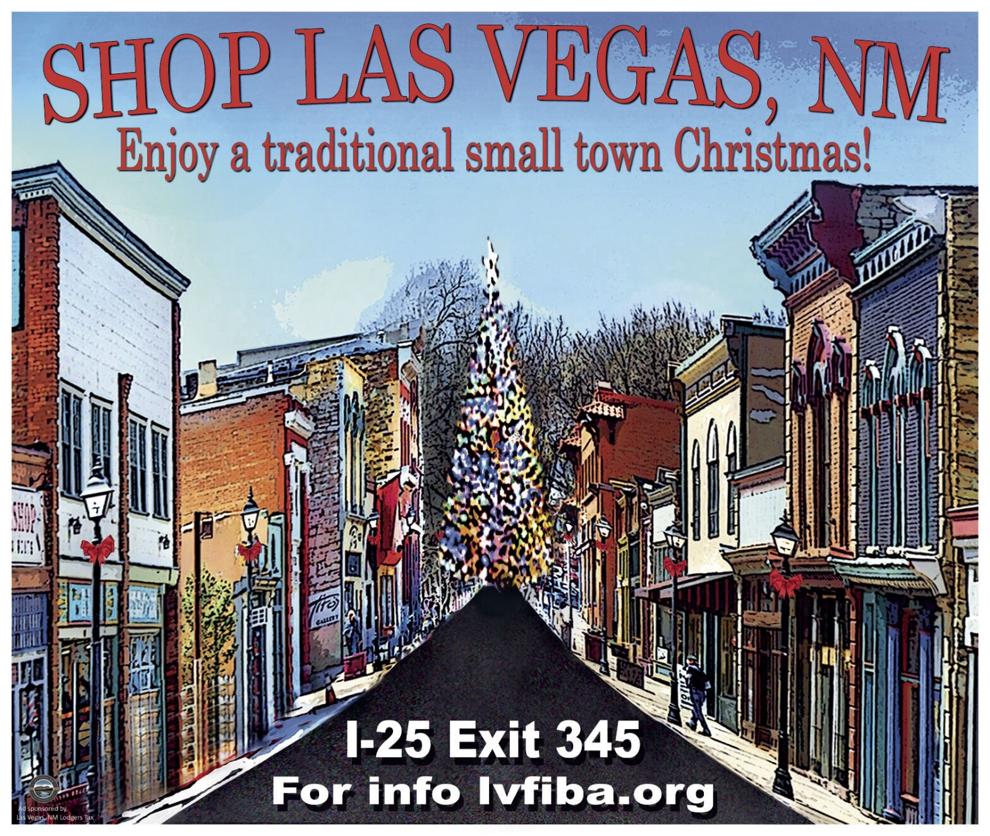 The City of Las Vegas has allocated $21,000 to promote holiday shopping on Bridge Street and the Old Town Plaza to outsiders.
Advertising will be done throughout Northern New Mexico, Southern Colorado and West Texas with regional newspapers, radio and social media, said Nancy Colalillo, owner of Paper Trail and a Bridge Street merchant for 25 years. "Shop Las Vegas, NM...Enjoy a traditional small-town Christmas" is the campaign theme.
City Council agreed to pay for the campaign, using money from the 5 percent tax charged to guests of Las Vegas hotels and motels. For the year ending June 30, 2020, the city collected $375,000 from the lodgers' tax and spent $300,000 on promoting the area.
Traditionally, up to $5,000 had been spent on projects, said mayor Louie Trujillo. However, the $1.6 million project to replace outdated sewer, gas and water lines on Bridge Street prompted city officials to increase that amount to $21,000 for the holiday shopping campaign. 
"We felt that it was prudent for us to assist the shop owners and restaurants in that area and to promote people coming to Las Vegas and shopping," Trujillo said. "We're working closely with the merchants, trying to speed the project up as much as we can. We realized they are adversely affected by the construction."
The city broke ground in mid-July for the project, which includes repaving Bridge Street, Plaza Park and side streets. Contractor Hays Plumbing has 180 days to complete the work by early January.
During construction, Bridge Street is closed from Monday morning through the end of the workday on Thursday. There is no on street parking available during the project.
The city has had to close off many routes and parking places for the street project, Colalillo said.
"As a result, small stores and restaurants have seen a significant drop in business," she said.
A committee of seven volunteers affiliated with businesses and nonprofits in the shopping district put together a marketing campaign, Colalillo said. They applied for the lodgers' tax, contacted media outlets, created advertisements and will oversee holiday activities on the Plaza.
As part of the holiday campaign, there will be free Sunday events in the shopping district. In addition, as many businesses as possible will be open on Sundays in November and December.
Events include:
• Nov. 14 -- Turkey Trot 5K Run ending at the Plaza Gazebo
• Nov 19 -- Las Vegas Community Foundation's annual Chile Challenge Fundraiser on YouTube
• Nov 26-28 -- Small Business Saturday and Scavenger Hunt
• Dec 4 -- Electric Light Parade
• Dec 5 -- Pet Parade
• Dec 12 -- Ugly Holiday Sweater Contest in Plaza Park
• Dec. 15 -- Decorated Mini Christmas Tree Cash Mob Facebook
• Dec 19 -- Gingerbread Cookie Contest at the Historic Plaza Hotel
Additional Cash Mob Facebook events will take place at Old Town businesses on Wednesdays from Nov. 17 through Dec. 21.
Organizations working on the campaign include MainStreet de Las Vegas, Las Vegas Arts Council, City of Las Vegas, Las Vegas Lodgers Tax Board, Animal Welfare Coalition of Northeastern New Mexico, Las Vegas Community Foundation, Las Vegas First Independent Business Alliance, Las Vegas San Miguel Chamber of Commerce, Small Business Development Center and local businesses.
For event times, details and guidelines, visit the Las Vegas First's website at lvfiba.org.