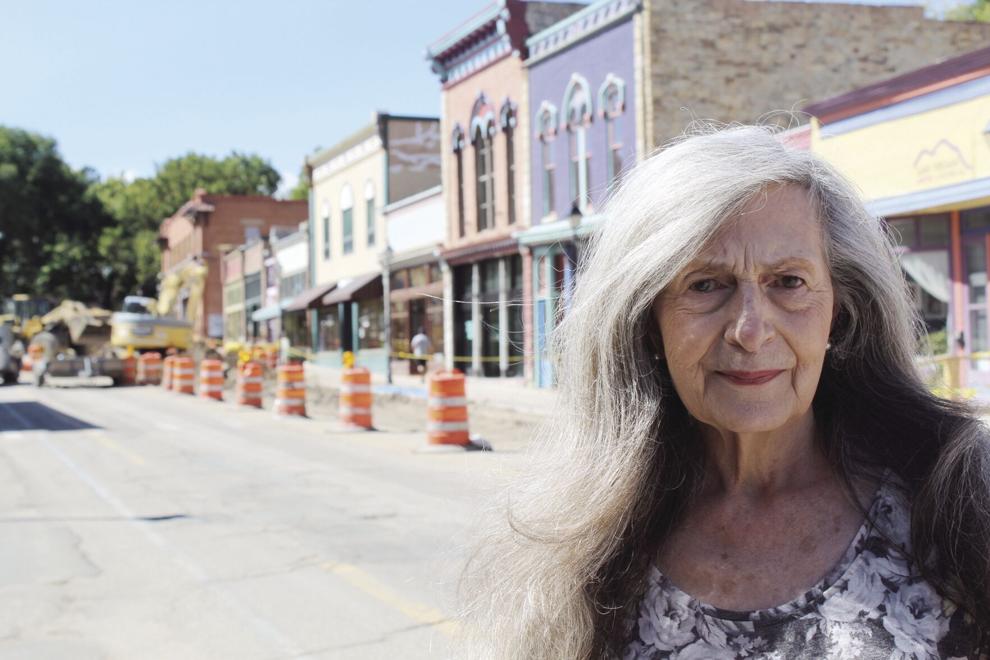 Last Saturday, Blowin in the Wind's total sales were $29 from the only customer who came into the women's clothing and home décor shop.
On that same Saturday one year earlier, the store at 108 Bridge St. made $2,200 in sales.
"It's killing us," owner Margaret Smith said about the $1.6 million project to replace outdated sewer, gas and water lines in the Old Town shopping district. 
Nancy Colalillo, owner of Paper Trail and a Bridge Street merchant for 25 years, also said traffic and sales are down.
"This on top of COVID is like a one-two punch," said Colalillo, who formerly owned Tome on the Range and Second Tome Around. 
The City of Las Vegas broke ground in mid-July for the project, which includes repaving Bridge Street, Plaza Park and side streets. The state-funded project will require an estimated $300,000 contribution from the city, said city utilities director Maria Gilvarry.
Contractor Hays Plumbing has 180 days to complete the work by early January, Gilvarry said. Workers put in four, 10-hour days each week; Bridge Street is closed from Monday morning through the end of the workday on Thursday. There is no on street parking available during the project.
Gilvarry said the city meets with merchants every Monday at the Las Vegas Arts Council to provide updates. 
"We've had a range of 10 or 15 in the meetings and other days, just a handful," she said.
Gilvarry sends follow-up emails from each meeting to 55 people. 
The project has mainly deterred tourist from visiting Popular Dry Goods at 119 Bridge St., said the Brenda Manning, who runs the western and work wear store with her father, Dennis Lujan.
"As far as everything else, I do contracts and I have business coming in," said Manning, referring to the store's uniform business.
Popular Dry Goods has a rear parking lot and Manning provides curbside deliveries.
"We have very loyal customers," she said.
Sam Arthur, owner of New Moon Fashions women's clothing store, said he would like to see the project completed as quickly as possible.
Located at 132 Bridge St. for 34 years, the store's business has slowed down, Arthur said.
"We have a lot of hardworking folks trying to come up with a marketing plan (for the holiday season)," he said.
Abraham Garcia, owner of Abraham's Tiendita at 151 Bridge St., said business at the food takeout is down by 60 percent, but he's grateful for his loyal customers and employees.
"I've been noticing the customers who do make their way down here and I do apologize for the inconvenience," said Garcia, who has been in the business for 22 years.
He said he believes he can always find a way to make things work.
"I've had employees here for up to 15 years," Garcia said. "They sacrifice their hours and their wellbeing to make sure we succeed. Without them, this place isn't really happening."