You may have already become acquainted with the work of Matthew Luna, whose Lunique art pieces are beginning to show up in galleries, and, yes, in the homes of family and friends. Luna's work shows the hands-on touch of a true artist, one who has found his medium and learned to work with it.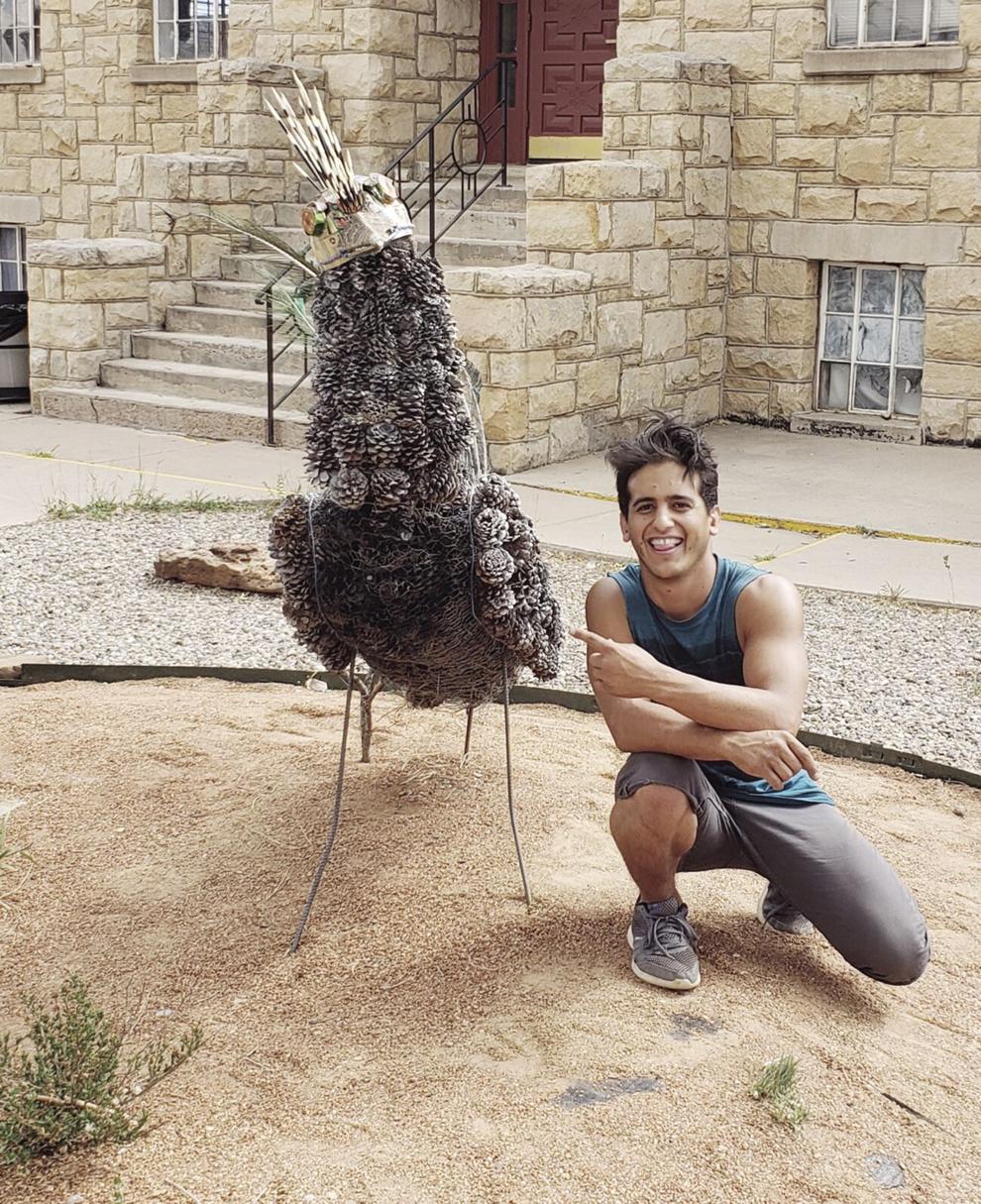 Lunique is a melding of his surname with unique, which fits his work perfectly, a reflection of his deep respect for family coupled with the passion he feels for taking something others toss aside, aluminum cans for example, and creating an art object that takes recycling to a new level.
Luna started making his art as gifts for family members for holidays and birthdays. "I feel my inspiration is the fact that my path with art is a virtue passed down by family." 
He is an interesting mix of athlete and artist. Luna agrees that each requires discipline and commitment, but notes that each also requires patience.
"When I adapt and conform to what I do, I build a mindful and responsible indentation of both disciplines. Being an athlete is an art form. I feel that I show my skills in both areas equally because the passion for them is the same," he said.
Luna did not learn about art in classrooms. "It all pours from my heart and soul. It flows so naturally for me I consider this is the gift God has blessed me with. I will never take that for granted."
In that flow, Luna imagines a piece and concurrently thinks of the steps it will take to bring it to life.
"It's like a puzzle already solved, breaking down the process from the finished product to the first can I use," Luna said.
Through his work, Luna promotes recycling. "I want people to know how important recycling is for our Earth. I also want to show that to some, trash is special. It's not trash at all but treasure to those who use it for art. It hurts my heart when I see litter, when recycling doesn't require much effort and is so beneficial to our planet, which benefits us."
There is no template for what Luna does. It all comes from his heart and his head. "One of my many inspirations is my Grandma Maggie. She was a cook, and she never used a measuring cup. She always cooked from her heart. I follow her legacy and create my art this way to this day. It all pours from my heart."
For Luna the emotional connection is difficult to explain. It just happens. "Gathering cans and finding them in good condition is key. Then I prep them. And then I hand sew them into my sculptures," he said. The cans come from a variety of sources including friends, bars, restaurants, and other businesses.
When you look at a finished piece of Luna's work, it's clear the artist has an eye for color and how color flows through his works. The color palette comes from the cans he has gathered.
"I see the colors and patterns on each can as specific tools for what I need to achieve for each piece of sculpture," he said.
He then uses recycled copper wire from old televisions to sew the pieces together using a standard pin needle. It is time consuming and requires focus. Luna said it also involves blood, sweat, and tears.
"Working with cans is like working with razor blades. My vision is ultimately the completion of the project, and as I am going through the motions of creating the piece, I focus on the end goal," Luna said.
 He refers to his craft as upcycling. "Recycling makes a person feel good; upcycling makes the world feel good," Luna said. "I can offer the world my art made from unique material and make a difference in someone's life and make a difference in an ongoing consumption and waste problem we are dealing with that causes harm to our planet."
Luna, who considers his art to be a hobby, aspires to open his own security business. He works for the Las Vegas City Schools district but spends much of his spare time working on sculptures. He has shown recently at Gallery 166 in Las Vegas, and has an exhibit at Artes de Descartes in Taos, through Sept. 6.